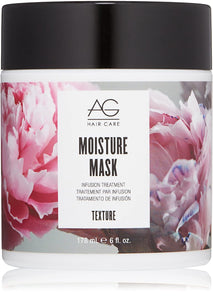 AG Hair Moisture Mask Infusion Treatment
An extensive blend of naturally hydrating ingredients, including AG's Sea Complex, penetrate deep into the hair shaft, sealing the cuticle for immediate, long term moisturizing benefits.
Apply after washing hair with Cleansing Cream, leave on for 30 minutes and rinse. Can also be used as a pre-shampoo treatment on damp hair (left on 30 minutes to overnight and rinsed with Cleansing Cream
Giant sea kelp – high in protein, iodine and calcium, which strengthens hair and helps reduce split ends and breakage. Clarifies as it removes unwanted toxins and environmental pollutants.
Bladderwrack seaweed – rich in nutrients and essential amino acids for healthy hair, bladderwrack is a natural polymer with a high percentage of sodium alginate to create texture.
Irish moss – contains vitamin A and C which naturally condition hair and Vitamin B which helps maintain a healthy scalp.
Cruelty Free