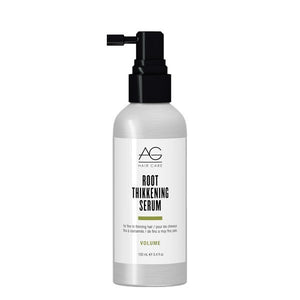 AG Hair Root Thickening Serum
Dramatically improve the volume of fine or thinning hair, starting directly at the root. Enhanced with our highest concentration of AG's Regenerative Complex, containing clinically-proven pea sprout extract coupled with ginseng and ginger, helping to create and maintain the optimal environment for healthy hair growth. Gentle polymers lift at the root, giving the appearance of thicker, fuller hair.
Use morning and night on damp or dry hair for a minimum of 90 days. Target sprayer at the root and areas where thinning is most noticeable. Massage gently on scalp with fingers, coaxing and lifting the hair to maximize volume. For best results, prior to styling, follow with Thikkening Lotion to create fuller looking hair instantly.
Pea sprout extract – rebalances the lifecycle of hair by prolonging the growth (anagen) phase, improving hair density and fullness.
Organic tilicene – increases volume by forming a protective and supportive film on hair.
Ginseng root extract – encourages hair growth by stimulating the scalp's metabolism bringing nutrient rich blood to roots.