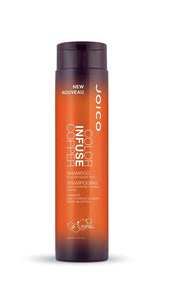 Joico Color infuse Copper Shampoo
Joico Color Infuse Copper Shampoo is the perfect color depositing shampoo to refresh all shades of auburn and red-blonde hues. This shampoo will restore intensity and luster to all shades of red. It is the perfect shampoo to give hair dimension and to infuse hair with the perfect amount of intensity and copper tones to enhance copper shades or to add a copper tone to blonde hair.
Shampoo with Color Infuse Copper every other cleansing to achieve the perfect glow, then use as often as needed to maintain that radiance. For maximum intensity and penetration, leave on hair for five minutes before rinsing.
Color Infuse Copper instantly refreshes copper tones + highlights
Tone-enhancing pigments last though regular shampooing, maintaining over 85% of color vibrancy even after 18 washes
Proven to reduce breakage by more than 53%* - Multi-Spectrum Defense Complex™ helps protect color against fading
Bio-Advanced Peptide Complex™ delivers root-to-tip repair + protection for healthier hair with every use

Boost color vibrancy + shine
Cumulative effects - the more often you use the more color-enriching dyes it infuses into the strands, keeping your color tones even
Against combing breakage on damaged hair vs. a non-conditioning shampoo