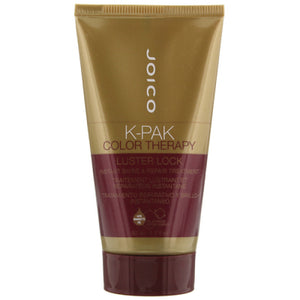 K-Pak Color Therapy Luster Lock - instant shine & repair treatment. Think your color-treated tresses are so parched, lackluster and brittle that only a pair of scissors and a pixie cut will do?
Meet our miracle fix: Just one treatment with NEW K-PAK Color Therapy Luster Lock leaves locks glowing with lustworthy shine and out-of-this world vibrancy, while seriously boosting your mane's strength to make it 9x more resistant to breakage!*
Apply to clean, damp hair. Leave on for 2-5 minutes, then rinse, dry, and style as usual. As a pre-shampoo-treatment: Apply to dry hair, leave on 2-5 minutes, then shampoo as usual.
Silk, soy and seaweed extract lend a unique slip to prevent damage during styling
Helps to repair and replenish damaged, depleted hair sites
Lend a unique "slip" to prevent damage during styling