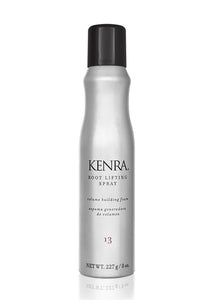 Kenra Root Lifting Spray 13
Kenra Professional Root Lifting Spray 13 is a volumizing spray fixative that boosts hair at the roots. Lightweight formulation provides lasting style support and body without stiffness.
Shake well. On damp hair, spray onto parted sections near the scalp for maximum lift. Blow-dry hair away from scalp.
Boosts hair at the roots & volumizes entire style
Creates ultimate lift & long-lasting style support
Provides flexible fullness without weight or stiffness