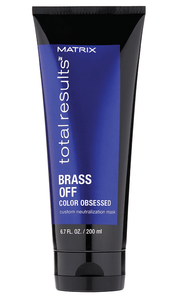 Matrix Total Results Brass Off Custom Neutralization Mask
Brass Off Custom Neutralization Hair Mask is a color depositing formula that neutralizes brassy tones. Highly pigmented blue-violet tones that neutralize and eliminate brassy/orange tones to maintain lightened hair. It also helps repair and protect fragile hair.
After using Total Results Brass Off shampoo, wearing suitable gloves, apply to wet hair and comb through for even distribution. Avoid scalp area and leave on for 5-10 minutes depending on desired neutralization. 5 minutes for subtle neutralization, 10 minutes for maximum neutralization. Rinse out. Follow with Blonde Threesome Leave-In Cream for best results.
Highly pigmented blue-violet pigments to effectively reduce brassy/orange tones
Ultra rich formula allows targeted application
Helps repair and protect fragile hair
Shine-enhancing ingredients help hair reflect light to give hair luster
Suitable for color treated and natural hair