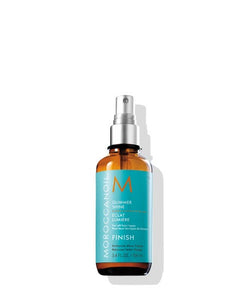 Moroccan Oil Glimmer Shine
Add this perfect final step to any style for beautiful, shiny hair. Moroccan Oil Glimmer Shine is a finishing spray that attracts and reflects light to give hair a gorgeous gloss. Infused with argan oil, vitamins and antioxidants, this hair shine spray creates an invisible veil of pure, luminous shine which helps protect hair against harmful environmental elements like the sun, salt water and chlorine. It also enhances color and highlights, for hair that reflects beautifully in any light. Alcohol-free.
Spray Moroccan Oil Glimmer Shine 100 ml approximately 10 inches (25 cm) from dry hair. Allow product to set for 3–4 minutes before touching or manipulating hair. For best results, use as a finishing touch after styling.
TIP: Dust hairbrush with Moroccan Oil Glimmer Shine to help prevent static and frizz. Repeated applications will enhance the effectiveness of this product, especially for thick or coarse hair. To completely address frizz, use Moroccan Oil Frizz Control.
Argan Oil: Extremely rich in tocopherols (Vitamin E), essential fatty acids and antioxidants that hydrate and nourish the hair.
Wheat Germ Oil: Hair conditioning agent rich in Vitamin E, which has natural antioxidant benefits.