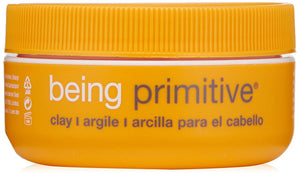 Rusk Being Primitive Clay
Rusk Being Primitive Clay is a flexible yet powerful shape shifter that bulks up texture and allows you to maneuver and form as your mood dictates! The incredible style memory allows you to shift, distort and alter shapes while finishing to a diffused shine.
Apply to damp hair and style as desired. Apply to dry hair for more extreme texture. Make sure to close jar tightly after each use.
Flexible yet powerful hold

Builds texture

Incredible style memory

Suitable for all hair types

Creates lift at the roots

Bulks up the mid layers of the hair shaft

Helps mend split ends and adds body