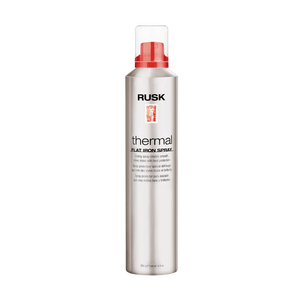 Rusk Thermal Flat Iron Spray
Thermal Flat Iron Spray is a micro-fine aerosol styling spray designed to be used prior to thermal styling and enriched with UVB sunscreens and silicones to protect and condition the hair where most needed. It is formulated to eliminate any frizziness and leave the hair smooth, straight, sleek and shiny.
Spray onto clean, dry hair prior to using flat iron.

Provides straightening, frizz control, anti-humectant, and sun protection

UV Protection