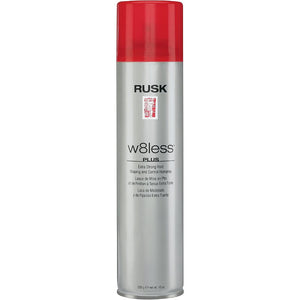 Rusk Weightless Plus Hairspray
Designer Collection W8less Plus Extra Strong Hold Shaping and Control Hairspray 55% is an extra-strong hold shaping and control hairspray. It provides texture, natural shine, and long-lasting, touchable support. For all hair types. It is a versatile design tool that provides texture, natural shine and long-lasting, touchable support. Contains Thermplex, a unique combination of ingredients that activates with the heat of a blow-dryer to provide shine, control and condition from the inside ou
Mist on wet hair during thermal styling for added hold and support. Use a brush or your fingers with the heat of a blow-dryer to infuse the hair with texture and body. To finish, mist evenly for extra hold.
An extra-strong hold shaping and control hairspray.
It provides texture, natural shine, and long-lasting, touchable support.

For all hair types