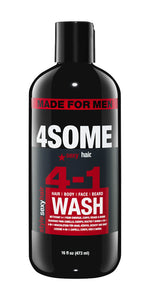 Sexy Hair 4 Some Hair Body and Face Wash
Are you looking for new products made just for men that are straightforward and easy-to-use? Discover 4SOME, a 4-1 hair, body, face and beard wash made for men. It's gentle enough to use all over while still cleansing and removing impurities.
Generously lather on hair, body, face & beard. Rinse well.
 Removes impurities and product residue
Gentle & moisturizing enough to use daily on hair, body, face and beard
Captivating, energizing fragrance
Great for travel & the gym