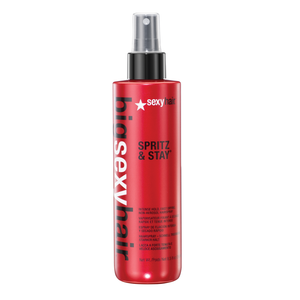 Sexy Hair Spritz and Stay Hairspray
An innovative non-aerosol hairspray that delivers the fastest drying, longest lasting, and most intense hold for any hairstyle. This fine, clear mist gives all-day control without stiffness or buildup. Formulated with excellent moisturizing agents and an effective UV protector, Spritz & Stay is formulated to provide a high sheen and a durable yet touchable hold. It also provides humidity resistance and encourages "greener" styling through the use of environmentally conscious packaging.
Spray on dry hair to finish style. Can be used to target a specific area or provide an all-over spritz. Allow time to dry and reapply as needed. Works great for updos and for keeping elaborate styles in place.
This non-aerosol hairspray offers a quick-drying
Strong hold by coating and sealing the hair cuticle 

Improves hair strength, body and shine.
UV Protection