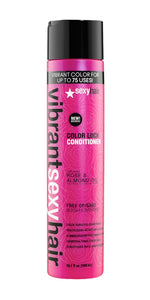 Sexy Hair Vibrant Sexy Hair Conditioner
Moisturize and improve your hair flexibility, as well as restructuring the hair damaged by the process. It also helps to keep hair moisturized and seals down the hair cuticle for optimal color retention, leaving hair soft and easy to comb through.
After cleansing with Color Lock Shampoo apply evenly, comb through and rinse.
The Vibrant Sexy hair line was created to help keep hair color fresh and vibrant for a longer period of time.
When using the Vibrant Sexy Hair Shampoo & Conditioner as a regimen, hair color remains vibrant for up to 75 uses.

Infused with Rose & Almond Oil, the Vibrant Sexy Hair formulas are smooth and velvety, providing a feeling of luxury from roots to tips.